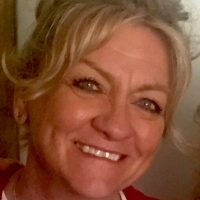 Deborah Hans
Deborah Hans
Deb was the matriarch of the family. Her patience and organization skills made her the go to family member for gatherings and HUGS. She was great with kids of all ages. Spent 30 years teaching special needs children. No surprise her real calling was to be a Mom-Mom. From her mac and cheese to riding on roller coasters when Lou would not. Deb was a party planner especially her Christmas parties. The kids still believe in the guy in the big red suit because of her. Invite her to your house and you will find her helping you serve and cleaning up. She was originally from Philly and no one enjoyed a mummers strut more than Deb. Rooting for the Phils was a family affair. She and Lou watched every game. Opening day was a family reunion.
At age 16 she met a handsome guy named Lou. Their first date was to a Chicago concert. Since then, they've been inseparable. Their marriage was blessed by their children: Scott (Nicole) Hans, and Nikki (Rich) Schoeffling, and the late Jaime-Lyn (Taryl King); and later by grandchildren: Christopher, Grace, Ryan, Erin, Cole, Alex, Eric, and Jacob; and great-grandaughter Demi. She is survived by her siblings, Eugene (the late Robin), Michael (Faye), Honey (Paul), Brian (Ellen); her sister in law Laura; and her mother in law Flora "Bubbie",
She was predeceased her parents Eugene (Selma), brothers, John, Jeff, and Rick, brother in law Bruce and father in law Mark Hans.
Come celebrate 68 years on Tuesday from 6-8pm at Sweeney Funeral Home, 337 Bridgeboro Street, Riverside NJ 08075, In lieu of flowers donations may be made to Fox Chase Cancer Center. foxchase.org/giving