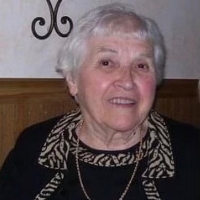 Helen Manz
Helen Manz
Helen Swadges Manz was born in 1920 in the Cambridge Section of Delran to Lithuanian immigrants. She was a fine student who graduated in 1937 with honors from Palmyra High School.
Helen worked for many years as a Bookkeeper at Century Mills in Riverside, N.J., having returned to work after her youngest child started school.
Helen was a voracious reader who enjoyed traveling both before and after her retirement in 1986. She was a lifelong parishioner at St. Peter's Church in Riverside and a loyal member of the Catholic Daughters.
She was preceded in death by her husband, Russel Manz and a son, Norman.
She is survived by son Bob (Linda), Daughter Karen (Paul), Grandchildren, Amy (Michael), Rebecca (Rocco), Bob (Marisa) and Ellyse (Pete).
She also has eight Great Grandchildren.
Per Helen's wishes, a private service will be held with the immediate family.