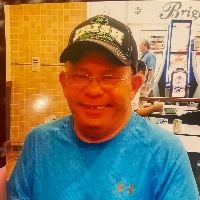 George Monaghan Jr.
George Monaghan Jr.
Georgie was a true Deadhead ~ good hearted, kind and laid back. In the 70's he discovered the extent of his love for music when he decided to hitch a ride with a stranger and follow the Dead, in a VW minibus, for a few months.  That was just the beginning as his love for music was immense as was his love for playing the air guitar.  He could enjoy just about any concert from Bad Company to Elton John.  He even honed in on his air guitar skills at a Lynyrd Skynyrd concert once, literally feet away from band.  No concert was off limits, not even the fact that he didn't know one song at the Bruno Mars concert his fiance took him to.  He was always a good sport.
You could often find George watching Notre Dame football (he had a special love and connection with his brother for Notre Dame) or the Flyers (he attended many games with his sister).  He also loved watching all the popular crime shows with his leading lady, Cheryl.  When not relaxing you would see his smiling face at Shoprite for the past 22 years.  Always there to lend a helpful hand and offer a smile, because you never know when someone may need one.  That was just the way George was.
George leaves behind many loving family members and friends including his fiance Cheryl who he enjoyed 15 amazing years with, his mother Margaret "Marge" and step father Thomas, his sister Donna (Frank), his sister in law Lindsey, his brother in law Joe, his step daughters Michele (Rashawn) and Lisa (David) and a host of nieces, nephews, cousins, grandchildren and special friends including Mike from Shoprite.  He was predeceased by his father, George, Sr. as well as his favorite brother, Michael, with whom he shared a tight knit relationship with.
Come celebrate 60 great years this Saturday, January 21st from 9 till11 AM at Sweeney Funeral Home located at 478 Cooper Street, Beverly NJ 08010, where there will be a memorial service in his honor.  Come share a special memory that can last a lifetime for his family.  Internment will be private and held at a later date at the Odd Fellows Cemetery which will be his final resting place.