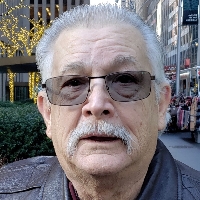 Alan Ward
Alan Ward
He made new friends wherever he went: Alan was a master of striking up conversations. It was his little way of spreading joy around. Usually, he'd be sharing a bit of his knowledge from a lifetime of reading. And when there was a need in his community, he was quick to fill it: he was a Boy Scouts leader and a lifetime member of the Delran Fire Company. For relaxation he did a little camping: Wading Pines, Appalachians, and the Delaware Water Gap. If his T.V was on he'd be checking out the History Channel or the Travel Channel, but the news would always be on in the background. He served our country in the U.S Navy and retired from Griffin Pipe as a machinist. He took up staining glass in his retirement but also found his real calling; he was a grandfather for the ages, taking the grands on vacations, to museums and just palling around with them.
While sitting at a bar having a drink Alan noticed an intoxicated patron annoying a beautiful woman. He was impressed on how Norma Jean handled the situation and after the patron left he bought her a drink. It was history from there.
Their 44-year marriage was blessed by sons, Alan Charles Ward and Christopher Ray Ward; his children from a previous marriage Lee Ward and Misty Bond and later by grandchildren, Damian Ward and Makayla Ward. He is survived by his brother, Ray Ward. He was predeceased by his sister, Pat Townsend.
Come celebrate 79 great years Friday 10am-noon at Sweeney Funeral Home, Riverside, where there will be a noon service. Interment Lakeview Memorial Park, Cinnaminson NJ.