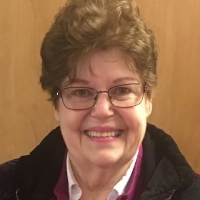 Carol Ann Leamon
Carol Ann Leamon
In loving memory of Carol Ann Leamon, a brave, loving, and generous wife, mother, grandmother, great-grandmother, sister-in-law, aunt and friend. Carol passed away at home surrounded by her family on February 21, 2023. She was 81.
Carol was devoted to church, family, education, and music.
Growing up, she attended church regularly, was involved in 4H, and helped out at her family's restaurant. She earned a degree in Education and met her husband James while attending Elmhurst College. They were married in 1963 and arrived at Lancaster Seminary with no money and no bed. They slept on the floor. But that didn't deter them. Carol and James embarked on a life of ministry together and through the years she was a true anchor and helpmate to James in his life's calling.
In addition to being a minister's wife, Carol taught elementary school classes. After her retirement from teaching, she continued her passion for education and joined the Philanthropic Educational Organization (PEO), an international women's organization that provides educational opportunities for female students worldwide. She even served as the president of her local chapter.
Carol loved to sing! She had a beautiful voice and will be fondly remembered as a regular soloist in church as well as performing in community theater. Most recently, Carol was active in the Garden State Chorale. She was an avid musical theater goer (attending more than 85 musicals, including Hamilton a few days before her death), and enjoyed listening to the CDs of her favorite singers while relaxing or doing mundane household chores.
When she wasn't singing, she enjoyed decorating the house for every season, traveling, going to a movie and eating buttery popcorn, indulging in peppermint ice cream, watching Jeopardy every weeknight, watching her favorite procedural drama, reading books to discuss with her book club, and spending time with her family.
She was the kind of grandmother who played, cooked, baked, taught, and listened. She had a curiosity and desire to understand but not judge. She asked a lot of questions because she wanted to deeply understand — whether it was a controversial topic, a subject she didn't know a lot about, or getting to a deeper level with a family member or friend.
Carol was a true inspiration and role model to her children and grandchildren. She never stopped fighting, no matter how sick she was. She was always determined. When anyone else would have broken, Carol stayed strong. She taught us what resilience and courage truly looked like. There was no quit in Carol. Just because she is no longer here, it doesn't mean she lost her fight.
In her final days, Carol provided comfort to her family when she reflected fondly, "I've had a wonderful life!"
Per Carol's wishes, the immediate family will be gathering for a small ceremony at home. Family and friends are welcome to attend this celebration of her life virtually. Visit https://everloved.com/memorial/carol-leamon/ for more information.