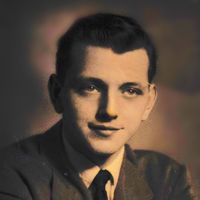 David L. Kratz Jr.
David L. Kratz Jr.
David L. Kratz Jr., 89, died Sunday, January 26, 2020 at Allegria at the Fountains in Atco, NJ
Born on November 21, 1930, in Mt. Ephraim NJ, he was raised in Philadelphia. He raised his own family in Delran NJ, spent his retirement years in Burlington NJ, then most recently Atco NJ.
As a boy he drove a car delivering newspapers (well before he was old enough), leading to his lifelong love of automobiles and driving them. He was very proud to have traveled by car to nearly every state in the country, as well as Canada.
His career spanned over four decades in the offset printing industry, where he was considered one of the premier image assemblers in the time before computers.
He was a loving father who enjoyed woodworking and building numerous play structures for his children through the years.
He enjoyed eating out often and vacationing, mostly by car, always taking the long way home.
His love of music included a talent for playing guitar and ukulele, and he had a beautiful singing voice ranging from church choir, barbershop quartet, and crooning standards.
He is preceded in death by his wife of 68 years, Mary Jean (Younkin) Kratz, and is survived by his four children – Steve Kratz and his wife Mary; Linda Hood and her husband Rick; Laura Dutton and her husband Dave; John Kratz and his wife April; and grandchildren Kim Ott, John Dutton, Abigail Kratz, and Kristy Kratz.
Celebration of his life will be Saturday, February 1, from 11 a.m. to 12 p.m. at Sweeney Funeral Home, 337 Bridgeboro St., Riverside NJ where there will be a service at 12 noon. In lieu of flowers the family requests donations be made to the National Multiple Sclerosis Society (https://www.nationalmssociety.org/Donate).