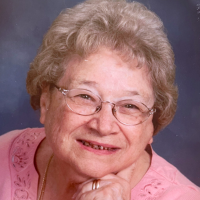 Dolores Hemmerle
Dolores Hemmerle
She was a woman in motion; even the loss of her driving abilities hardly slowed her down. Dolores would take her scooter all the way across town if need be. She was active at St Peters' Church (Bingo and Altar and Rosary Society) and the Ladies Auxiliary for the Riverside Fire Company. But she found her real calling late in life, that of a grandmother. Mom Mom would drop everything for the grands and she was a built in babysitter. If her T.V was on she'd be watching Little House on the Prairie and Lawrence Welk or giving the Eagles a piece of her mind.
She grew up a few streets from a handsome guy; the late John. They shared a 61-year marriage. She is survived by her children, Donna Schultice (Tom), Cindy Slimm (Bob), Cathy Cesare (Joe) and Margie Parker; 13 grandchildren; 10 great grandchildren; and her siblings, James Renshaw (Marie), Margaret Harkins (Harry). She was predeceased by her sons, John Jr., Robert and John Edward and her brother, Robert.
Come celebrate 85 great years Friday August 26th 9-10 a.m. at Sweeney Funeral Home, 478 Cooper Street, BEVERLY. Mass of Christian Burial will be celebrated 10:30 a.m. at Jesus the Good Shepherd Parish, St. Joseph's Church, Beverly. Interment St. Peter's Cemetery, Riverside. In lieu of flowers donations to Riverside Fire Company 14 West Scott Street, Riverside NJ 08075 or Jesus the Good Parish, 805 Warren Street, Beverly 08010 will be appreciated.