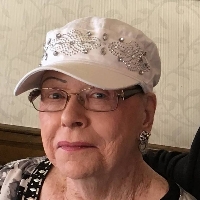 Dolores T Wells
Dolores T Wells
Dee was always in motion. When her community needed a leader, she was there, volunteering her time and talent. She was a member of the Delran Historical Society where she spearheaded and captured pictures of past Delran mayors for the Mayor's Project. The Holly Coin Club: Dee's favorite coin was the quarter, maybe because she would take daily rides to get out of the house, especially during the pandemic, and played punch buggies, putting $0.25 in her coffee fund. She was a Hand Holder for her ophthalmologist, bringing comfort to those who were having cataract surgery; and blew a whistle as a Gym Teacher at St Peter's school. Dee was active in the Delran Fire Company #2. She was in the ladies auxiliary, then a member which led her to being a Lieutenant in the Fire Police. There were many a night where she would turn off the kitchen stove and respond. Her location was the treacherous corner of Route 130 and Chester Avenue, where one night a passing car threw a bottle at her! Dee was always helping with fundraising. She was the president of the Triple Towns Chapter for Deborah Hospital and was chair for a whole host of activities at St Peter's church, including a sell-out Chinese auction and the car raffle at the carnival.
And she worked a bevy of jobs during her lifetime: secretary at Catholic Charities Delaware House, finally retiring at the age of 74; AH Schreiber, Macmillan Publishing, Century Mills, NJ Water, Keebler Baking where Dee would enjoy liverwurst sandwiches for lunch; and Philadelphia Gear Works. Dee held numerous jobs within Delran: School Bus Driver, Substitute Teacher, Township Clerk and Police Matron. Her work ethic probably dated back to her teens when she worked delivering groceries in Philadelphia where she had the thrill of delivering to the circus when it was in town.
Family was family to Dee and all her children knew her unconditional love. But she fell into her real calling late in life; Dee was meant to be a grandmother. She never missed an event, took the grands on many an adventure to experience life's simple pleasures. She was the matriarch, the pillar, the go-to for advice. She was wise beyond her years, and had what can only be described as the gift of presence when she walked into a room. She was welcoming and could converse on almost any subject, being current on local, state and world events. She was generous beyond measure, giving treats to the trash, recycle and delivery drivers and looked forward to talking with the mail carrier every day. Her rule of thumb: the more you give, the more you receive.
Dee was strong in her Catholic faith; attended Mass and dedicated to daily praying the rosary, knowing her Guardian Angel would finish if she fell asleep. Dee loved the rosary so much she collected them, having over 100 pairs! You saw her faith in action at St Peter's as a Eucharistic Minister, Lector, RCIA Catechist and Bereavement Committee member. Dee loved the Infant of Prague, Miraculous Medal and Saints Anthony, Jude and Theresa the Little Flower.
Dee was always dressed to the nines: make-up, earrings and scarves, oh my! She loved all things blingy. You knew it was her by her signature sequined hats and the heavenly smell of Angel perfume.
She enjoyed a drink from time to time; Grey Goose with garlic stuffed olives. She made the best comfort foods: macaroni and cheese, cheesecake cupcakes, stuffed shells, eggplant meatballs and fried chicken but her Jello shots were her signature dish. She kept handwritten recipe books with taste test notes including where the recipes came from. When she ate out, there was no surprise, Dee would order a grilled cheese usually from The Castle. She would occasionally rotate in Chick-fil-A nuggets and fruit or an Arby's slider but chocolate milk was always a must. Dee had a sweet tooth, gobbling up fudge brownie M&M's and never seemed to get enough red and white puffy mints.
She loved Tucker Carlson and if the MyPillow Guy was selling it, she was buying. Dee never missed a televised Phillies game, wearing her sports apparel and gushing over #3 Bryce Harper. Although she hailed from Philadelphia, she rooted for the Dallas Cowboys. She had a crush on her favorite meteorologist Adam Joseph. She was a Midnite Misfit and Walter M. Sterling would regularly send out shout-outs to the fabulous Dee Wells Sunday nights on WPHT. Dee was an avid reader; self proclaimed #1 fan of local author John Toppin, reading all of his books. She could work a PC with the best of them and had the latest Apps for her smart phone. Dee was the family's personal secretary and personal shopper. She loved going to free concerts in neighboring townships, enjoying the performances of a local group Lights Out, listening to the music of the 40's, 50's and 60's but especially singing along to Frank Sinatra, Tony Bennet with a splash of Willie Nelson. Dee loved the ponies and believed there was but one way to bet horses during the Triple Crown: to win. And maybe celebrate with a mint julep. During recent years, Dee became an amateur astronomer and you could usually find her on the front lawn enjoying the night sky looking up for the International Space Station.
She worked long and hard on capturing her life story in her homemade genealogy book. When it came to family history, Dee was most proud to be and celebrated her Irish heritage but it was hidden by her English maiden name. The proof was in the pudding after her Ancestry DNA test, proving she was 44% Irish! And what better way than to toast with Irish whiskey. Slainte!
She was lucky enough to have a handsome guy, the late Carl (Toby) be the love of her life. Their romance was blessed by nuptials and a blended family. She is survived by her children, Michael Mattingly (Wendy), Patricia McKenna (Jack), Crystal Wells, Carla Rosati and Cheryl Stahl (Kenny). She was the grandmother of Michael (Juanita), Kyle (Melody), Allison (Phil), Anthony (Val), Nick, Angelina (Dennis), Caitlin (Tim), Krista, Daniel and the late Michelle (Tom); and great grandmother of the Jocelynn, Annalee, Hazel, Vienna, Dominic, Wesley, Eddie, Nicholas, Michael and the late Jack and there's one more baby boy on the way. She is survived by her sister, Mildred Blankenburg (Dan) and the late Claire Brulatour who was called to Heaven just hours after Dee.
Come celebrate 89 extraordinary years Friday August 26th 6-8 p.m. and Saturday August 27th 9-9:45 a.m. at Sweeney Funeral Home, Riverside. Mass of Christian Burial will be celebrated 10:30 a.m. St. Charles Borromeo Church, Cinnaminson. Interment, St. Peter's Cemetery, Riverside.
It is the family's request that anyone wishing to express their sympathy please do so by making a donation to the Delran Fire Company #2, 1020 S Chester Ave, Delran NJ 08075.