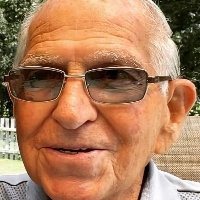 Dominick J. Reale
Dominick J. Reale
He was everybody's Uncle Dom. Dominick was in constant motion, his hobby was being out everyday, helping everybody with their home improvement projects: plumbing, electric, remodeling. He even built a deck at the age of 90. You knew when the job was complete: he'd be on his porch enjoying a beer. If he wasn't swinging a hammer, he'd most likely be working in his garden: proud of his red hots and his fig tree. He worked for 40 years with PSEG but found his real calling late in life; that of a grandfather. He'd travel from sports field to sports field watching their games. When the great grandchildren came along he became Super Pop-Pop. He was a huge fan of Carli Lloyd; didn't matter what time zone she was playing in, Dom would be watching the game. He spent a little time in the Scrubbie Pines and watched a little Nascar. When he got out of the area, he'd be off vacationing in Lake George, Burlington Vermont, Virginia and Arizona.
Dom is survived by his children: Tony (Diane) Reale, Carol (Larry) LaMaina-Herbert, and Cindy Cavanaugh; grandchildren: Jason Reale, Brian (Trang) Reale, Alyssa (Billy) Guarino, Lisa (Joe) Giesecki, David (Phoebe) LaMaina, Ryan Cavanaugh, Ravyn Cavanaugh, Riley Cavanaugh, Kristen Ward, Steve Ward, Anthony (Traci) Rossi, and Joe Darmo; great- grandchildren: Sienna Giesecki, Jayanna Giesecki, Pema Reale, and Scarlett Rossi; siblings: Carol Reale and Frank Reale, his friend Mary Dimiero, his extended family and his dog, Rocco. He is predeceased by his wife Eleanor (Foster) and his daughter Connie Ward.
Come celebrate 92 years on Monday 6-9 p.m. and Tuesday 10-11 a.m. at Sweeney Funeral Home, Riverside, where there will be an 11 a.m. service. Interment St. Peters Cemetery. In lieu of flowers donations may be made to Riverside High School Athletic Department c/o Buddy Micucci, 112 E Washington Street, Riverside NJ 08075 or Riverside Turners, 300 Rancocas Ave, Riverside NJ 08075.