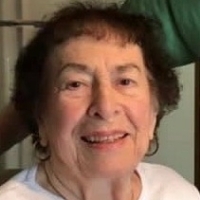 Dorothy M. Baker
Dorothy M. Baker
Dorothy M. Baker of Voorhees, NJ formerly of Homosassa, Fl and Willingboro, NJ
passed away on Thursday March 10, 2022 at the age of 96.
Born in Palmyra, NJ in her family's home on November 9, 1925.
She went to Palmyra High School where she was in the Drum and Bugle Corp.
During WWII she was a Civil Defense Plane Spotter.
Dorothy was a stay at home mom for many years and took care of everyone. First her own parents and then her young family.
Over the years she taught Sunday school worked with the Girl Scouts, worked in Real Estate and was a US census taker.
In the 1960's she worked for McCollister's Moving and Storage and was one of the first paid female weigh masters in N.J.
In 1968 she went to work at Rancocas Valley Hospital as Director of Volunteers where she ran a large volunteer program and many fund raising events. She was loved by all her volunteer's and co-workers.
After retiring in 1985 Dorothy and her husband Bill moved to Homosassa, Fl. where they enjoyed their retirement until Bill passed in June 2019.
Dorothy then returned to NJ to be with her Children, Grandchildren and Great-Grandchildren.
Dorothy was preceded in death by her husband William D. Baker, her parents Alfred and Florence Koppenhoefer and her brother Louis Koppenhoefer. She leaves behind her daughter Nancy Kalbach, of Riverside, Keith Kalbach (Trish) of Blackwood. Her step-daughter Denise Haley (Doug) of Lady Lake, FL and step-son Theodore Baker of Burlington.
Seven grandchildren, Jennifer Cleary(Brian) of Havertown, PA, Kerri Kalbach (Amanda) of Warminster, Pa, Kimberly Carkeek (Sean) Belford, NJ, Kourtney McClintock (Kyle) of Mickleton, NJ., Joseph Baker of Tennessee, Jessica Kerr (Richard) of Burlington and David Baker of Burlington.
Dorothy was the proud Great-Grandmother of 10. Lily, Colin, Maura and Declan Cleary, Chloe, Riley and Cooper Carkeek, Lucas and Zachery McClintock and Maverick Kerr.
Friends and family are welcome to come celebrate Dorothy's life on March 26, 2022, 11 am at Bethal Memorial Park Cemetery in Pennsauken, NJ. The family asks that donations can be made to your favorite charity in Dorothy's memory.