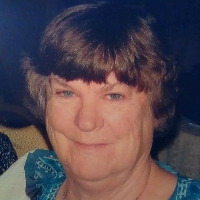 Eileen Wolverton
Eileen Wolverton
On March 12,1946, William and Ruth Wolverton was given a blessing when their middle daughter, Eileen was born.
Eileen had the ideal childhood liking to go fishing and crabbing with her friends. She became an avid bowler and later joined the Delanco Ladies Auxillary team.
Some of her favorite activities was hanging out with her cat, Belle while watching General Hospital and rooting for her teams, the Alabama Crimson Tide and NY Giants.
Eileen touched the lives of so many people and will be deeply missed.
She leaves behind a younger brother, Kevin Wolverton and countless other family members. She is proceeded in death by her older sister Ruth Allen and her parents William and Ruth Wolverton.
A ceremony will be held later this year to celebrate her life along with her sister Ruth.