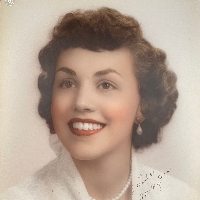 Elizabeth Gambacorta
Elizabeth Gambacorta
Our sweet, devoted mom Elizabeth (Focoso) Gambacorta (April 7, 1931) gently passed away around the comfort of her children on August 3,2022.
Elizabeth had a love of music so early on. Her dad's tenor voice and grandmother's piano skills inspired her. Her grandmother had a piano and would tell Elizabeth "nonzi toc!" (don't touch). Elizabeth never forgot those words that eventually encouraged her to buy a piano of her own and play it until the end. She sang with her soprano voice to the likes of Jeannette McDonald, Mario Lanza and so many more.
During WW II, Elizabeth was only the age of 10 kneeling under her desk, practicing bomb drills at school. Little did she know, there was someone out to sea reflecting of home.
Thirteen years later she would meet her handsome husband Lester at the Chez Vous dance in Philadelphia to the sounds of the Jimmy Dorsey band. They fell deeply in love and while awaiting her betrothed, she would always reflect on those pair of argyle socks that she knitted for him. Elizabeth and Lester married in 1954 leaving her wonderful job as a secretary at Home Insurance in Philadelphia behind. Prior to that job, she worked for the Harley Davidson Motorcycle company never even attempting to sit on a cycle! She managed their books and always talked about looking over her shoulder while carrying the money bag to the bank.
Elizabeth and Lester were so happily intertwined running a small sign business for forty years where she again was able to use her business skills balancing the books down to a penny.
Elizabeth was a very loving mother to Lester (Victoria Ward), Diana (Nicola Rosati) and Bernadette (Francis Masciocchi). Her children remembered the Jerry Vale records that would play on the stereo while Elizabeth would enjoy gardening her hollyhocks, iris', lily of valley, and roses in her yard.
When her grandchildren entered a room, she would light up with immense pride and joy. Bianca ( Michael Cuniglio) Francis , Bernadette ,Vincent and Domenica.
She would always say "I'm so lucky to have these treasured great grands Colette, Luciano, Vittoria."
Elizabeth was a parishioner of the Saint Peters Church. She served as cantor until the age of 79. She was also a member of the Burnt Cork servicing her time to visiting and singing at the Nursing Homes.
Elizabeth's home was filled with smells of her cooking and sounds of her singing, which she did until the age of 91.
We feel so blessed to have had her at the most vulnerable times thanking the ones who were also by her side for comfort. She's now with her dear husband Lester, her sister Dorothy Bucklin, brothers Joseph Focoso and Edward Focoso. She was predeceased by her dad, Joseph Focoso and her mom Domenica DiGuseppe Focoso. She's leaves behind cousins, nieces, nephews, and dear friends.
Come celebrate 91 years on Friday from 9:45am-10:45am at St John Neuman Church, 560 Walton Ave., Mt Laurel NJ, where mass of Christian Burial will be celebrated there will be an 11am. Interment St. Peters Cemetery, Riverside. In Lieu of flowers: Donations can be made to Children's Hospital