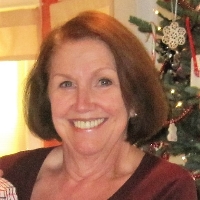 Ellen Louise Nuckowski
Ellen Louise Nuckowski
Ellen Louise Nuckowski passed away at her Maple Shade home on March 7, 2022 after a courageous battle with Progressive Supranuclear Palsy (PSP).
Born November 23, 1946 to John and Elizabeth O'Leary, Ellen grew up in Westmont New Jersey with five older brothers and sisters, Johnny, Mary, Betty, Jimmy, and Jerry. Ellen attended Holy Savior School and graduated in 1964 from Camden Catholic High School.
Ellen met her husband Leonard at a dance and they got married in 1969. They enjoyed spending time with family and friends, especially down the shore in Ocean City and Surf City, and at Philadelphia Eagles games, where they had season tickets for years.
In 1971, they built their home in Delran where they raised two children, Christine (Kenneth) and Gregory (Kellie). Ellen had a successful career in the title industry as a settlement clerk, and thrived on the busy end of month schedule.
Ellen loved to entertain and decorate for holidays, especially Christmas. She loved hosting parties and was famous for her cheesecake and potato salad. Ellen always made the best homemade birthday cakes for her kids, and believed that the Easter Bunny should bring really good candy from Bayard's Chocolates.
She loved listening to Broadway showtunes on the record player and watching Jeopardy and, later, The Daily Show. She was kind with a sharp wit, a great sense of humor, and an easy smile, and was always of the mindset that everything was going to be okay.
After Leonard passed in 2001, Ellen eventually found her footing and a calling for service, including driving to New Orleans after Hurricane Sandy, own her own, to work with Habitat for Humanity, volunteering at a local food bank and at the LIFE program at Burlington County College, and praying the rosary at St. Casimir's on Wednesdays. Ellen enjoyed going to the movies and going out to eat with friends and family, and developed a newfound hobby of playing Mahjong.
Ellen's grandchildren, Kara (16), Martin (12), Bridget (11), Jack (10), and Louise (8) brought Ellen new life, and she found tremendous joy in seeing them grow. Ellen put her seamstress skills to good use, making amazing dress-up clothes for her granddaughters.
Please join us in celebrating Ellen's life on Friday March 25, from 9:00-10:30 at Sweeney Funeral Home, 337 Bridgeboro Road, Riverside, NJ. Mass will follow at 11:00am at St. Casimir's Church (Resurrection Parish) 502 New Jersey Avenue, Riverside NJ 08075.
In lieu of flowers, donations can be made to The Smile Train PO Box 96231 Washington, DC 20090 or CurePSP 1216 Broadway, 2nd Floor, New York, NY 10001.