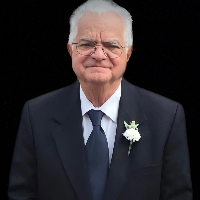 Frank "Joe" Canduci
Frank "Joe" Canduci
Frank "Joe" Canduci
Joe was loyal. Dependable. Honest. He was happiest caring for others. He once said he was 'lucky enough to find the love of his life twice'. First, with his wife, Catherine, and then with his longtime companion, Joan. He was a loving father to his daughter, Gina, and grandfather to her children Danielle, Jared, and Jenna. He was overjoyed with the arrival of each new great grandchild. He never missed an event; a constant fixture at all of their recitals, sports, and school activities. He was a son, brother, family man, and friend.
Joe was a hard worker to the very end, continuing to show up to work every day – even at the age of 87. For 35 years he worked at IMCO before starting his own business C & C Tool  with his brother, "Duke". He was proud to be a machinist. One of his most favored achievements was machining parts for the NASA Apollo Program in the 70's, some of those parts are still on the moon today.
He had said that every day he wasn't hunting or fishing he was planning on going hunting or fishing. He was a very well travelled outdoorsman, with his favorite destinations being the Landa Ranch in Montana, bear hunting in Quebec, and hunting snowshoe hares with the Hamlins in Maine. The trophies and photographs brought home from these adventures proudly decorated the walls of his home and office. Many will fondly remember him as the man that took them on their first hunting trip.
You can't talk about Joe without mentioning, "The Farm", in New Albany, Pennsylvania. A place where friends and family came to hunt, fish, and relax. It is where nearly every member of the family learned to shoot, fish, and enjoy time spent outdoors. There was something special about that place, forever leaving a lasting impression on both Joe and all who visited.
Joe was a long tenured member of the South Park Gun Club and enjoyed his time with the Garden State Beagle Club on the weekends. He was a proud supporter of many conservation groups including the RMEF, NWTF, Ducks Unlimited, and Pheasants Forever.
Joe is survived by his daughter, Gina Turner; grandchildren: Danielle (Michael) Janson, Jared (Danielle) Turner, and Jenna Turner; great-grandchildren: Bella, Blake, Kiera, Theo, Chloe, and Hannah; siblings: Mary Chiarello and Nunzio Canduci and many nieces, nephews, and cousins. He was preceded in death by his wife, "Kitty" (McCloskey) Canduci, parents, Nunzio and Gaetana, brother, Anthony Canduci, sisters, Rose Buczkowski and Julia Versari, and companion, Joan Hamlin.
Join us to celebrate 87 special years on Tuesday 6-8pm at Sweeney Funeral Home, Riverside and Wednesday 9-10am. Mass of Christian burial will be celebrated 10:30am at Jesus the Good Shepherd Parish, St Joseph's Church, Beverly NJ. Interment St. Peters Cemetery, Riverside. In lieu of flowers donations may be made to Garden State Beagle Club, 253 Church Road, Medford NJ 08055.