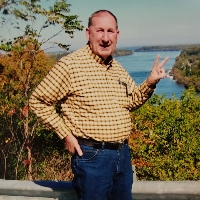 Harold W Murphy
Harold W Murphy
Harold W Murphy
Harold worked at Hoeganaes and then for the casinos as a security guard. He took the train to Atlantic City and was recognized for being their one millionth rider.
He served our nation in the military10 years; National Guard and the Army. He was so proud of serving for our country. He was a proud 49ers fan. He was a graduate of Palmyra High School and had played baseball in his youth and had almost made it to the big leagues. Later years found him spending time with his best friends, the late Bill Burbage and Angel. He loved ordering from Crazy Cow and watching a little T.V
He married the love of his life, the late Patsy and would speak of her lovingly til the end. He is survived by his daughter, Kimberly Barrett, grandson, Brian Barrett, his siblings, Luke Murphy, Janet Beebe, Alice Davis, and Ethel Wonke, and many nieces and nephews. He is predeceased by his sister, Jean Haberle.
Come celebrate years on Wednesday 12:30pm-1:30pm at Sweeney Funeral Home, Riverside. Interment Morgan Cemetery. In lieu of flowers donations may be made to a charity of your choice.