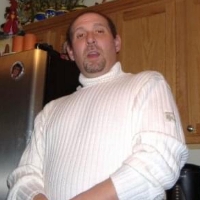 James Hollywood
James Hollywood
Jim was all about family. His children wanted for nothing but, more importantly, he was the fun dad: he'd push the kitchen table over and have an impromptu dance party with all the kids. But he found his real calling late in life, a grandfather for the ages. He did the best duck voices and maybe taught his grandson some salty language. And it wasn't just his own kids that he cared for. He had an open-door policy; many a kid in crisis found comfort in his home. Jim could turn a wrench with the best of them: he was a maintenance mechanic for Ready Pac, sometimes working 7 days a week. His home was also a refuge for 4 dogs and 4 cats; Snowy was by his feet and Kitty by his side. If his T.V was on he'd be checking out his Navy shows, NCIS, Chicago Fire and Blue Bloods. He served our nation for 10 years in the Navy.
The Staten Island guy would meet a Brooklyn girl while they were working at a restaurant. He came to her home for a barbecue and never left. For better or for worse; as long as Jim and Deb were together they knew everything would be fine. Best friends until the end. They were blessed with children, the late Nicko, James III, and Maurlo; and later by a grandson, Nicko. He was the brother of Donna O'Connor (Jimmy), Debbie Trabisco (John), Michael and the late Kevin; and is survived by many nieces and nephews.
Come celebrate 59 great years Thursday 2 to 4 at Sweeney Funeral Home, Beverly where there will be a 4 p.m. service.