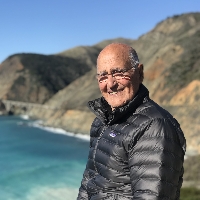 John "Butter" Bucci
John "Butter" Bucci
His hands and mind were always in motion; the embodiment of the entrepreneurial spirit. It was in his DNA. He owned furniture companies in Riverside, Burlington and Delran with his brothers. In the 70's he owned a yacht company in Ft Lauderdale, Florida. But what Butter really built, and was most passionate about, was his family. Of course, he found his real calling late in life: that of a grandfather. Poppy doted on his grandkids and great grandkids.
He also loved football which dated back to his youth: a 4 year starter at Riverside and an inductee to the Hall of Fame.
Through some friends he'd meet the love of his life — a girl named Cookie. They shared a 59-year marriage full of laughter, joy and kisses and were blessed with 4 sons, John (Linda), Michael (Ana), Doug (Barb) and Ryan (Franceska); grandchildren, Antonio, Natalya Taylor, Courtney, Gemma, and Julian; and 4 great-grandchildren. He was pre-deceased by his brothers, Joseph and James.
Come celebrate 84 great years Friday 6-8 p.m. and Saturday 10-11 a.m. at Sweeney Funeral Home, Riverside where there will be an 11 a.m. service.