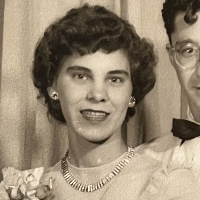 Kathleen Blehl
Kathleen Blehl
Everyone knew that with Kathleen, family came first. Especially once the grands arrived: lots of trips to Longwood Gardens and she was the grandmother who always had ice cream, snacks and snicker ice cream bars. She led with her heart, making sure the less fortunate were cared for. And whenever you saw Kathleen one thing was sure, she'd have a book in her hand. She read everything from the classics (Edgar Allan Poe) to Romance Novels and mysteries. And she had a little gamble in her; everything from casinos to rub offs. For the holidays she'd bring her family back to her home; Thanksgiving and Christmas would be turkey and Easter would be ham. She loved to go out to eat (Wedgewood Diner and the Golden Dawn) and shopping especially hunting down the perfect antiques. If her TV was on she'd be checking out Dr. Pol.
She met a handsome guy in High School. They were prom dates and spent most Friday nights going uptown in Riverside. It led to a 57-year marriage (Nov. 13, 1953) blessed by her daughter, Carol (Dave) Mailhiot; and grandchildren, Amy, Shawn, Wes, Jack, Nick, Jill, and Carleen; and great-grandchildren, Mark, Logan, Taylor, Alexis, Jackie, Hannah, Isabella, Max, Chase, Reese, Eric, and Charlee, her sibings; Bob and Dolly.
She was predeceased by her children Cyndy and Jimmy, her siblings, William, Louise, Samuel, Charles, Alice, and Joe, and her son in law Dennis.
Come celebrate 88 years on Thursday from 4pm-7pm at Sweeney Funeral Home, Riverside. Interment private. In lieu of flowers donations may be made to a charity of your choice.