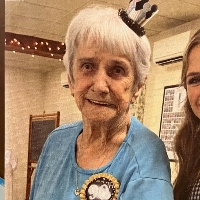 Loretta Stoer
Loretta Stoer
She never let a harsh word cross her lips: some called her Saint Loretta. She was a homemaker, who found her real calling late in life: as a grandmother she watched all the grandchildren at some point, showering them with love. Thanksgiving was her opportunity to bring her flock back under her roof. Before her husband died, she began hosting monthly family dinners to do the same. They worked out well with her kids divvying up the duties of cooking the meals, sides and desserts. Before you could finish the sentence inviting her to Disney, she'd already have her bags packed: 25 trips to the happiest place on earth. And even if it wasn't Disney she enjoyed family trips just about everywhere: day trips, trips to the Poconos, and down the shore. Though if there was one place that beat all the others for excitement it was the casinos. She battled the slots in Atlantic City until Parx opened much closer. If her T.V was on she'd be watching the game show network, except for 6 o'clock when she'd check out the news.
Loretta was married for 70 years to the late Benjamin, though she was so in love she counted the years even after he passed. They were blessed with children: Mary "Susie" (John), Richard (late Sharon), Joanne, Carol (David), Thomas (Paulette), and Michael (Lisa); 18 grandchildren; and 19 ½ great grandchildren. She is survived by her brother Judd (Rita) McCay and brother-in-law Rolston. She was predeceased by her children: Patrick and Janet.
Come celebrate 93 years Saturday 10 a.m.-11:30 a.m at Sweeney Funeral Home, 337 Bridgeboro Street, Riverside, where there will be an 11:30 a.m service. Interment private. In lieu of flowers donations may be made to: easterseals.com,  Easterseals New Jersey, 25 Kennedy Blvd, Suite 600, East Brunswick, NJ 08816.