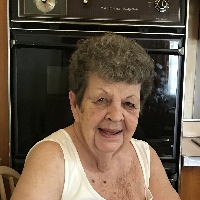 Louise J. Heigh
Louise J. Heigh
Weezy was the sweetest woman you could ever meet. For her, family always came first, especially when it came to cooking: spaghetti and meatballs for everyone and people went crazy trying to duplicate her horseshoe cookies. The origins of her advice were murky: don't sit on cold curbs, don't hang clothes on doorknobs, and don't put new shoes on the table. If you didn't behave, she'd threaten to "call the authorities", a tactic that always worked. Weezy loved the Phils: "They better keep their eyes on that little white ball!" was her advice during the World Series. She loved her Delran home (60-year resident) and Hallmark movies, especially during the holidays.
She was the wife of the late Robert and is survived by her daughters, Susan (Robert) Sharp, Nancy Wikel and Shirley Farkas; her grandchildren, Vanessa, Dane, Connor and Rachel; and her sisters, Edna Curran, Mary Ahlquist and Barbara Rosell.
Family will celebrate 84 great years of the best mom, grandmother and sister ever privately.