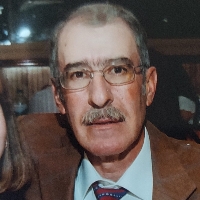 Manuel Freire (English)
Manuel Freire (English)
Manuel Augusto Tavares Freire, age 71 of Riverside, New Jersey, passed away in the early afternoon of August 25th, 2022, surrounded by his loving family.
Manuel was born on April 2nd, 1951 in Vale de Cambra, Portugal, where he lived until moving to the United States in 1983. He was a construction worker for over 30 years, which sparked his love for woodworking. He was a man of simple pleasures, preferring to spend his time with his family and cats, gardening, and building furniture.
Manuel is survived by his wife of 45 years, Lúcia, and his children Daniel and Ana. He is also survived by his sister Maria Almeida and nieces, nephews, and family in the U.S., Portugal, and Luxemburg. He was predeceased by his parents Amélia and Manuel Freire, brothers Armando Freire and Fernando Freire, and sister Amélia Junqueira.
Friends and family members are invited to join the Freire family for visitation on Monday August 29th, 2022 from 7-9pm, at Sweeney Funeral Home, 337 Bridgeboro St. Riverside, NJ 08075; and mass on Tuesday August 30th, 2022 at 10:30am at Jesus, The Good Shepard Parish, 805 Warren St Beverly, NJ 08010.