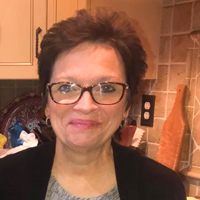 Mary Anne Lamancusa
Mary Anne Lamancusa
Mary Anne was the really cool mom.  Most of her daughters' friends considered her their mom too and she was the one who hauled all the kids off to their events.  And always active: President of the Delran PTA when her girls were in school.  Behind the stove she was a master of comfort food: "Grandmom's Chicken" and stew.  And she was a devout Catholic: Sunday always found her in a church pew, and she attended adoration on Tuesdays.  If her T.V. was on she'd most likely be checking out Say Yes to the Dress or any of the other dozen shows that caught her fancy.  Mary Anne was one of those people who loved her job and swore she'd never leave: secretary to the principal at the Moorestown School District.  Her smile brightened everybody's day, staff and student alike.  But when the weather broke, she'd be off for the shore: Seaside Heights, 25 cent candy and Maruca's Pizza.
She'd meet a handsome guy named Jim through some friends.  They'd share a 40 year marriage blessed by daughters, Nicole and Erica.  She is survived by her brothers, Joseph (Sue) Garbe and James (Kay) Garbe, and many nieces and nephews.
Come celebrate 63 great years Sunday 6-8 p.m. and Monday 9-10 a.m. at Sweeney Funeral Home, Riverside.  Mass of Christian Burial will be celebrated Monday 10:30 a.m. at Jesus the Good Shepherd Parish, St. Peter's Church, Riverside.  Interment St. Peter's Cemetery, Riverside.