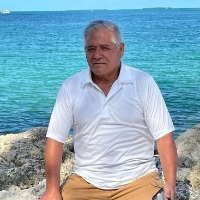 Oswaldo "Arturo" Rangel
Oswaldo "Arturo" Rangel
Arturo was a father figure to most of his community. As a leader with Hispanic functions in his church he was involved in most births and marriages and Godfather to half of the Ecuadorian community. He liked to host people if for no other reason than to see his wife happy. And while he wasn't a big cook, he loved his potatoes. If his T.V was on he'd be checking out some soccer, old cowboy movies or news from foreign lands.
He met a pretty girl named Amparo in Colombia. A happy accident, they met through a family member. She was from the Northern part, he from the South. They shared a 46-year marriage blessed by children: Sandra (Steve) and Jose (Paulina); and 3 grandchildren: Sebastian, Sofia, and Elizabeth. He is survived by his 7 siblings and many nieces and nephews.
Come celebrate 69 great years Friday 11am -5pm at Sweeney Funeral Home, 337 Bridgeboro Street, Riverside. A Mass will be celebrated on Saturday 11:30 am at Jesus the Good Shepherd Parish, St. Joseph Church, 805 Warren Street, Beverly.