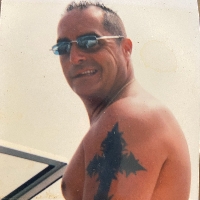 Warren "Joe" Cooper
Warren "Joe" Cooper
He made his living selling auto-parts: Joe was that salesman the clients actually wanted to see. Of course, he found his real calling late in life; that of a grandfather. He was a built-in babysitter who could entertain with "guess the number" for hours and he loved to playfully drag the grands around the yard in a cart behind his mower. Family always came first; every Friday found him bringing his mom a special treat, usually tea biscuits. As a dad, he was a tad on the strict side: best be at his table by 5 o'clock sharp. In his earlier years he may have punched a few walls watching the Eagles; the Joe of later years could watch somewhat calmy. His lawn was immaculate (no one else was allowed to touch it) and so were most of the neighbors: if they couldn't get to it, Joe was glad to lend a hand. He loved rock and metal (everything from Creed to Metallica), American Pickers, Swamp People and Corvettes (preferably black).
He met a pretty girl in grammar school named Marcianne. The two would share a 40-year marriage blessed by 3 sons, Joseph (Desy), Tony (Erin) and Dominic; and later by grandchildren, Joey, Vinny, Mia, Lucy, Nana, Vivi and Tony. He is survived by his parents, Warren and Ann; siblings, Mark (Stacie), Terri Noone Cooper and Kenny Smith and many nieces and nephews.
Come celebrate 59 great years, Thursday March 2, 8-10 a.m. at Sweeney Funeral Home, Riverside. Mass of Christian Burial will be celebrated 10:30 a.m. at Jesus the Good Shepherd Parish, St. Joseph's Church, Beverly. Interment St. Peter's Cemetery, Riverside.