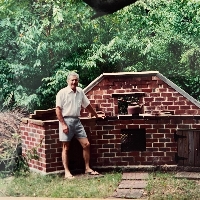 Albert Malone
Albert Malone
Even though he lived furthest away from work, he beat everyone through the door every morning; famous for his work habits, constantly in motion and always taking courses to improve himself. He had worked at Rohm and Haas, CE Glass Industries and, most recently, at Princeton Plasma Physics Lab. His love of work probably dated back to his youth when he was a lifeguard at Holiday Lakes and Ship Bottom; he saved more than a few people from drowning. Around the house he was always keeping busy; he could repair just about anything and was the fix it guy for his whole family. He saved a lifetime of parts and could lay his hands on them in a pinch. Rainy days found him moving trees and bushes around his yard. He tried to pass on his knowledge to his sons and grandchildren who were usually by his side. Al was a great dancer; mostly just showing off but he'd won many a prize with his wife as his partner. If his TV was on, he'd be checking out some animal shows or science shows like How The Universe Works; his favorite movie was My Cousin Vinny. He was born and raised in Riverside and a 1950 Palmyra High School Graduate. He served our nation in the Air Force and the Air National Guard in France and Germany.
He met a pretty girl named Roseann at a dance at the Hampton House Inn. She wouldn't give him her number but with a little detective work (and sweet talking a telephone operator) he came up with it and coaxed her out to the movies: The V.I.P.s starring Elizabeth Taylor and Richard Burton. They shared a 58-year marriage blessed by 2 sons and 6 grandchildren. He is survived by his wife, Roseann (nee Monachello); children: Brian and Craig (Marilene);; and later by grandchildren, Nico, Gianna, Carmella, Cecelia, Elia and Amideo. He is survived by his siblings, Charlotte Bryson, Irma Kolwicz and Dolores (Jack) Cannuli.
Come celebrate 92 great years Saturday, November 5, 8 to 10 a.m. at Sweeney Funeral Home, Riverside. Mass of Christian Burial will be celebrated at 10:30 a.m. at Jesus the Good Shepherd Parish, Beverly NJ. Interment, Lakeview Cemetery, Cinnaminson. Donations in lieu of flowers to St. Jude Children's Research Hospital (Stjude.org) will be appreciated.