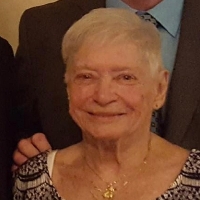 Carmela Cecelia Foster
Carmela Cecelia Foster
Cecelia was always there to lend a helping hand. No one knew this more than her family. She was strong in her faith and active for many years in the St. Peter's Altar Rosary Society and hardly ever missed a St. Pete's BINGO game. She was a wiz with a sewing machine; she made clothing for her kids and costumes for Sports Night, ensuring White Would Win. She loved being around kids and worked most of her adult life in the cafeterias of Mt Laurel and Riverside Schools.  She loved to shop, especially at Boscov's , and no matter what store checkout line she ended up in, she always had a coupon. If her TV was on the Gameshow Network was playing. Her quiet times found her sitting in her favorite chair reading romance novels and crocheting blankets for her family.
Ceal was married for 60 wonderful years to the love of her life, Frank. Those years were filled with lots of traveling, including: cruises, many Florida trips, bus trips to A.C., and a ton of other destinations.  They had 4 children together, 1 daughter and 3 sons who Ceal dedicated all of her time, love, and energy to. That is until the grandchildren arrived. That was when Cealie's true calling came to shine. All of her grandkids knew if they wanted something that mom and dad said no to, all they had to do was call "Mom Mom."
Cecelia is survived by her children: Renee Foster-Dove, Michael (Lisa), Frank (Lorita), and John (Lori); grandchildren: Gillian, Katherine, Amber, Zachary, Anthony, Rebecca, and Emily; and 8 great-grandchildren.  She was predeceased by her husband, Franklin J. Foster Sr. and granddaughter, Angela.
Come celebrate 92 great years Thursday 10 a.m. to noon at Sweeney Funeral Home, Riverside, where there will be a noon service. Interment St. Peters Cemetery, Riverside.