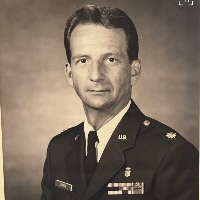 Ltc. USAF Lloyd E. Gibson RN, CRNA
Ltc. USAF Lloyd E. Gibson RN, CRNA
Lloyd died peacefully April 16. He was born December 27, 1942 and graduated from Schuylkill Haven High School 1960, from Pennsylvania Hospital School of Nursing for Men 1966, Medical College of Pennsylvania School of Nurse Anesthesia 1977. From 1966-1971 he worked at Pennsylvania Hospital; Staff nurse, Asst. Head Nurse, Head Nurse and Nursing Supervisor. He was the first male Nursing Supervisor at Memorial Hospital (Virtua) from 1971-1977 and a Staff Nurse Anesthetist Memorial Hospital and Chief Nurse Anesthetist retiring in 2006, for a total of 35 years at Virtua. His main goal in nursing was to provide the best care possible to all of his patients, whether at the bed side or in the Operating Room, delivering quality Anesthesia. He often said the most rewarding part of his Nursing career was taking care of his husband, Jay during his short Illness.
He served in the US Navy from 1960-1963, attaining the rank of Petty Officer 3rd Class, upon discharge. He then joined the US Air Force Reserves, commissioned as Lieutenant 1971 and attaining the rank of Lt. Col., upon retirement in 1995. Various duties included Staff Nurse, Officer in charge of medical technician's Hospital Training, Officer in charge of reserve clinic, and Officer in Charge Staff development for Nursing and Medical Technicians, continuing education, Assistant Chief Nurse, and Chief Nurse of 33rd Medical Service Squadron, McGuire AF Base. He was called to active duty during Desert Shield/ Desert Storm and assigned to Malcom Grow Medical Center Washington DC, as Chief Nurse Anesthetist. Upon returning to McGuire AFB NJ was acting commander of 33rd Medical Service Squadron. Being an enlisted person in the Navy, he would most likely be seen mingling with the many enlisted people during his military career enjoying their comradeship, rather than being at the Officers Club.
He loved gardening and his real passion was, needle work, doing counted cross stitch and needle point. Lloyd entered his needle work in the Burlington County Farm Fair for many years and won many ribbons for first place in division, Best in Division and several silver bowls for Excellence in Needlework. He also enjoyed traveling with his husband and visiting various countries and cultures.
He was very active in his community serving as the chairman of the (ARB) Architectural Review Board, and President of the Home Owners Association. He is preceded in death by his husband, Ltc. Jay L. Dreibelbis, his parents, Harold E. and Rachel (Mack) Gibson and his brother, Franklin E. Gibson. He is survived by his sister, Rosalind M (Gibson) Rokita and her husband, David, sister-in-law, Lois (Croneberger) Gibson; niece, Sandra Taggart, (her children Victoria (husband, Andy and son, Camden), and Dillon Taggart) and niece, Sharon McGinnis, (her husband Pierson and their children, Hailey Anthony, Cassidy Anthony, and Pierson McGinnis.)
Come celebrate 79 great years Wednesday (April 20) 6-8 p.m. and Thursday noon to 1 p.m. at Sweeney Funeral Home, Beverly where there will be a 1 p.m. service. Interment Odd Fellows Cemetery, Burlington.
In lieu of flowers donations to wounded warrior project (woundedwarriorproject.org/donate) will be appreciated.
| | |
| --- | --- |
| | |