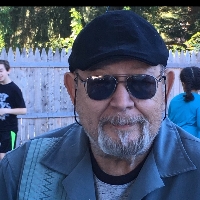 Ronald Parker
Ronald Parker
Ronnie, Ron, Ronald, Poppop, Buffer, or maybe something else, it didn't matter what you knew him by, if you were a friend or family you knew he was "simply the best." Just like the Tina Turner hit and the hot rods he loved, he was a classic. Steadfast, reliable, and fun to be around. He would help you with anything from remodeling your kitchen, fixing your car, or giving you a ride home.
Helping was second nature to Ron; he was paying it forward long before it was a viral sensation. He'd sacrifice his time and anything else to help others; he just knew how to make you feel loved.
Ronald Parker, 82, passed from this earth peacefully on Tuesday, March 1st. Born on a farm in Pennsylvania, his family would move to Burlington where he was raised. Later, upon moving to Riverside, he would meet the love of his life, Helen, at a pool party in 1978. It was love at first sight and he never let his "Toots" forget how much he adored her in their 39 years of marriage.
Through his life Ron wore many hats- both figuratively and literally- he worked for himself for a number of years in construction before joining Whitesell Construction. Then in his longest tenure, he protected the medical staff of Our Lady of Lourdes in Camden as a Security Officer for nearly twenty years. Never one to sit still, Ron always kept busy with side jobs and even worked for Advanced Auto for a few years before officially retiring in 2016.
Ron is survived by his loving wife Helen, son Jimmy (Katrina), and his grandchildren Brittany, Kevin, and Heather. He is also survived by his sister Charlene and brother I.E. (Patty). He was preceded in death by his daughter Tina, his brothers Richard and Robert, and his parents.
Come celebrate 82 beautiful years on Saturday, March 12th at Sweeney's in Riverside from 10am-12pm and when you can, pay it forward as much as possible in memory of Ron.
In lieu of flowers, donations can be made to ALZHEIMER'S DISEASE RESEARCH, 22512 Gateway Center Drive, Clarksburg MD 20871.