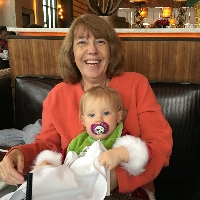 Rosemary Hunter
Rosemary Hunter
Rosemary was a laid back gal who was fun to be around. Earlier years found her working at Hoeganaes and Burlington Coat Factory. When she had free time, she loved to do a little travelling, especially road trips to Ashville. And she even made it out to Green Bay to see her Packers play on Lambeau Field. Of course, she loved the Eagles just as much. But she found her real calling like in life: that of a grandmother.
She'd meet a handsome guy named Ron through friends. They'd marry and share a 22-year marriage. She is survived by her children, Sarah (Mike) Kelly and Kyle Jennings and grandchildren, Fiona and Graham.
Come celebrate 59 great years Monday Jan. 25, 6-8 p.m. at Sweeney Funeral Home, Beverly.