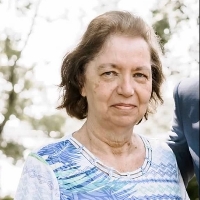 Barbara Leith
Barbara Leith
She was strong and independent with the biggest of hearts. Barbara was all about her family and friends. Born and raised in Riverside; she loved her BOOST and reminiscing about the old days of the town.  She kept up on technology so she could stay in touch: on her tablet when she wasn't playing her games she'd be on Facebook. The first to like any picture you posted. When she got out of the area, she'd most likely be heading down to Ocean City, LBI, and Cape May. But she also enjoyed trips with her children and grandchildren to Gettysburg and Disney World. When her grandsons were younger she made many great memories with them at Great Adventure. Barabara was the cool grandmother: she attended all their soccer and baseball games. Never quiet on the sidelines, she even got a yellow card during one of her son"s games.  Christmas was her holiday, collecting her family back to her home. It would be tastefully decorated for the season and, of course, impeccably clean. A place for everything and everything in its place. She was always looking for a deal or sale, especially on QVC. She worked for Macmillans for many years until they closed.  She then went to work for PHH Mortgage (Cendant) and retired from there after over 20 years of service.  She also kept a part time job working the service desk at Kmart from where she eventually retired. 
Barbara is survived by her children: Matthew Leith and Mary Leith; grandchildren: Matthew (Sarah) Leith and Colin (Cassidy) Leith; great-grandchild, Mason Leith; and her mother, Dorothy Espenschied.
Come celebrate 75 years Wednesday 6 p.m.-8p.m.at Sweeney Funeral Home, Riverside, where there will be an 8p.m. service. Interment private. In lieu of flowers donations may be made to: Your favorite local animal shelter or Samaritan Hospice in Mt. Holly.