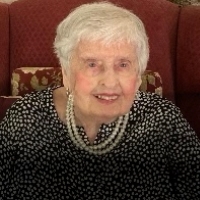 Kaye Newman
Kaye Newman
Catherine "Kaye" Elizabeth Cranmer Newman of Delanco, NJ, passed away at the age of 94 years on Friday, March 25, 2022.
Kaye was the last surviving child of Benjamin and Winifred (Donnelly) Cranmer of Pemberton Borough, NJ, the devoted widow of Frank Newman, the beloved mother of Richard, Robert, David, and Paul (Krisanne), the cherished Grandmother of Jeffrey Newman, Alyssa de la Pena (Casey), Paul Newman, Jr. (Dawn), Haley Newman, Carley Newman (Joshua Herman), Olivia Newman, and Casey Newman, and the blessed Great Grandmother of Brooke Herman and Valerie de la Pena.
Kaye is also survived by her brothers-in-law, Albert Newman, Michael McWilliams, and sister-in-law, Marion Cranmer; special nieces Deirdre Gallagher, Deborah O'Riordan, Julie Rietzke, and Meghan Telebzadah, and a host of many other very kind nieces and nephews.
Family was of utmost importance to Kaye. Her goal in life was to be a mother.  She succeeded.  She was the love which kept her family together.  A testament to this is the devotion her children and grandchildren had for her and the sadness in their hearts at this temporary parting.   Till his last breath, her husband of 64 years, Frank said, "the greatest fortune of my life was marrying Kaye."
A special note of appreciation goes to Dr. W. Albert Dow, a physician extraordinaire, for his years of top medical service to Kaye and her husband, Frank, coupled with a level of compassion found in few individuals.
A gathering of family and friends will be held Wednesday, March 30, 2022 from 9 a.m. to 10:00 a.m. at Sweeny Funeral Home, 337 Bridgeboro Street, Riverside, NJ.  Mass of Christian Burial will take place at 10:30 a.m. at Jesus, the Good Shepherd Church, 805 Warren Street, Beverly, NJ. Burial will follow at Odd Fellows Cemetery, Burlington, NJ.
In lieu of flowers, the family requests memorial contributions to St. Jude Children's Research Hospital; www.stjude.org.