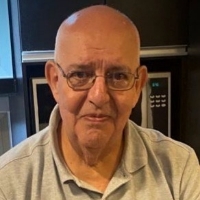 Claudio Mosquera
Claudio Mosquera
Claudio was born in Giron, Ecuador. He moved to the United States in 1987 hoping to improve the life of his family which he succeeded in doing. Claudio was a jack-of-all trades, his career life included teaching, woodworking, cooking, as well as many other professions.
He was known by the family for making the best empanadas and chumales and for fixing just about anything. Star Wars and Lord of the Rings held a special place in his heart because they were rooted in his love of science, creativity, and technology which he passed down to his children and grandchildren. He liked country music, reading, Christmas and science fiction movies, and fishing. He loved to spend his weekends with his family fishing off the piers in the Florida Keys.
The thing that he loved the most was spending time with his family and friends, especially his grandkids. He loved holding, chasing, playing, and taking naps with them. He gave them all the love he had.
Claudio is survived by his wife: Gladys; children: Daniela Mosquera, Juan Mosquera, and Lorraine Mosquera; his grandchildren: Emma, Leah, Chase, and Ethan; and siblings: Fausto Mosquera, Elsa Vallejo, Nidia Bravo.
Come celebrate his life Sunday 2-4 P.M. at Sweeney Funeral Home, 337 Bridgeboro Street, Riverside NJ 08075, where there will be a 4 p.m. service. Interment private.