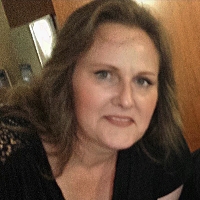 Dawn Anne Kirk
Dawn Anne Kirk
Dawn was such a bright light to everyone she encountered. In both good and bad times, she had a way about her that made you feel so seen and heard. Everyone loved Dawn. From her great sense of humor to her ability to be the "best" listener. And you could always count on her for honest feedback…even if it hurt a little.
She really enjoyed traveling; having visited Portugal, Spain, and Florida, along with most of the East Coast. In her spare time Dawn loved to watch movies and binge-watch TV shows with the family. If she wasn't listening to Florence and the Machine or Cat Stevens, you might find her in the kitchen. She had a knack for turning unusual ingredients into amazing meals for family and friends. Though she was a great cook, she much preferred a relaxing night out at a diner or restaurant. And as of late, she most loved beautiful gospel music and painting watercolors that represented her faith in God.
She was blessed with the love and affection of her family and friends (as well as her dog Zeus and her cat, Yow-Yow). But she has always said her greatest gift was her son, Vincent. She never hesitated to tell you how proud she was of him and his accomplishments. Dawn's legacy is Vincent, who has been by her side through her toughest last months, and her stepson, Kyle. She was a loving mother to both.
Dawn is survived by her son, Vincent Guglielmo, stepson Kyle Ricca, their father, Ralph D. Guglielmo; her mother Jackie; her sisters Darlene (Drew); Danielle (Travis); Sue (Ray) as well as her nieces and nephews: Andrew, Anthony, Riley, Ryan, Rae Ann, Andrea and Zachary and her cousin Lori. She was predeceased by her father, Vincent Kirk and her stepfather Thomas Halliwell.
Come celebrate 52 years on Monday from 5-8 pm, where there will be a 7 pm service and Tuesday 10am-noon, at Sweeney Funeral Home, Riverside. Interment private.