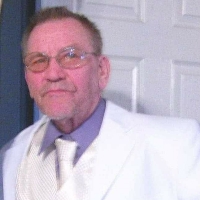 Donald Johnson
Donald Johnson
First and foremost, he loved the Lord and would do just about anything for his church, Browns Mills First Baptist Church. Don sang in the choir, dressed like a clown for events and was even learning sign language so he could sign songs for the deaf. And for church cookouts he manned the grill. Christmas was definitely his holiday; his house always decorated for the season. And he liked to get back to nature, be it peddling around on his bicycle or standing next to the water, rod in hand. In his spare time he built model planes did puzzles, painted a little and rooted for the Dolphins.
He'd meet a pretty woman named Vicky online. They wed and shared many quality hours, especially shopping and raising their puppies. He is survived by his children: Kristine Smith and Hilda Johnson; his grandchildren; brothers: Jerry Sr. (Mary) and David (Judy) and numerous nieces and nephews. He was predeceased by his son, Donald Johnson Jr.
Come celebrate 76 years Tuesday 1-2 p.m. at Sweeney Funeral Home, Riverside NJ, where there will be a service at 2 pm. Interment Lakeview Memorial Park, Cinnaminson.