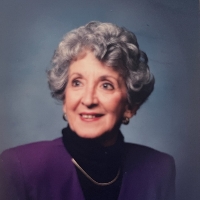 Eleanor Constantino
Eleanor Constantino
Eleanor "Nuffie" Constantino, of Burlington City, NJ, and formerly of Delanco, NJ, died peacefully at her home on Jan. 12 under the care of her children and Samaritan Hospice of Mount Holly. She was 94.
Eleanor Cecelia Fabritiis was born in Riverside, NJ, on Jan. 18, 1928, and graduated in 1945 from Riverside High School, where she played in the Drum and Bugle Corps; competed in soccer, field hockey and basketball; and participated in Glee Club, choir and other student activities. She was known for her beautiful singing voice. As a teen, Eleanor also participated in gymnastics at Riverside Turners, and was a lifelong Catholic who was a parishioner at St. Peter's Church in Riverside and later at St. Katharine Drexel Parish in Burlington City.
After attending Camden Commercial, her first job was at RCA Victor in Camden. She married in 1950, and three years later moved into a home that her husband built on Lilac Lane in Delanco, NJ. She raised four children there, and over the years their friends were welcomed as if they were her own.
Eleanor served as a den mother for the local Scouts and as a homeroom mother at the Burlington Avenue School. She even made costumes for the school plays. Eleanor returned to the work force in 1972 at A.H. Schreiber & Sons (Century Mills) in Riverside and was employed at other jobs until her retirement, including as a data processor for Phoenix Technologies in Philadelphia. She enjoyed traveling to such places as the Jersey shore, Disney World, the Grand Canyon, San Francisco and Ireland. She especially liked going to the Atlantic City casinos with her sisters Ethel and Marge, and visiting her grandson and great-grandchildren in Florida.
Eleanor had many friends and hobbies, and was a member of the Lower Bucks Senior Activity Center in Bristol, Pa., where she served as president and helped organize and perform in various entertainment activities and fundraisers. She also was past president of the Young at Heart at St. Katharine Drexel Parish, a board member of the Home for Aged Women in Burlington City, a volunteer for the American Red Cross for 20 years, a member of the Bristol Township Seniors, and a Burlington County poll worker. As an avid crocheter, she frequently donated her homemade afghans and baby blankets to various charities and to organizations for unwed mothers.
Eleanor spent most of her retirement years living independently at Burlington Manor, moving there in 1995, and was befriended by many of the residents. Among her greatest pleasures were having lunch and conversation every Sunday with her children, and her loving relationships with her three grandsons and three great-grandchildren.
Eleanor is survived by her four children, Barbara of Haddonfield, Steven of Delanco, Robert of Medford, and Mario of Delanco; her daughters-in-law, Melinda Constantino of Delanco and Karen Stickel of Burlington City; and her three grandsons, Michael of St. Cloud, Fla., and Dominic and Anthony, both of Burlington City. In addition, she is survived by her three great-grandchildren, Ethan, Evelyn and Eli, and grand-daughter-in-law, Nora, all of St. Cloud. She also leaves behind many nieces, nephews and friends who treated her with great affection. They will all miss her, and she will miss them.
Eleanor was predeceased by her parents, Dominic and Cecelia (née Sprangers), and her eight siblings, Victor Sprangers, Edward Fabritiis, Orlando Fabritiis, Claire Kairaitis, Louis Fabritiis, Margaret Pica, Ethel Di Lissio and Maryalice Fabritiis. She lived a long and joyful life, but will also be pleased to be reunited with her brothers and sisters, whom she missed and loved so much.
Visitation will be held from 10 a.m. to noon Thursday at the Sweeney Funeral Home, 337 Bridgeboro St., Riverside, NJ, followed by a brief service. Burial will follow at St. Peter's Cemetery on Bridgeboro Road in Riverside.