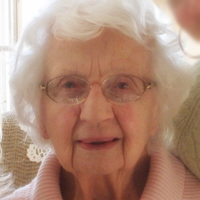 Elizabeth "Libby" Klekot
Elizabeth "Libby" Klekot
Elizabeth "Libby" Klekot passed away peacefully on February 22nd, 2020 at Sunapee Cove in Georges Mills, New Hampshire, with her daughter Ginni close by. She recently celebrated her 100th birthday in January. 
Libby was born and raised in Riverside, NJ and resided there much of her long life. She spent her young adult life as a housewife and decided to enter the workforce at Macmillan Publishing when her children entered high school.
She enjoyed visiting Seaside Park at the Jersey Shore and found great pleasure walking along the beach or simply watching the waves from a comfortable bench. She also loved to see her many grandchildren and great grandchildren and shared her sense of humor with them. 
Libby is predeceased by her husband, Edward "Ed", and son, Robert "Bobby". She is survived by two daughters, Ginni Walsh and Pat Eisenhart (Forrest). Libby has 5 grandchildren: Scott Eisenhart (Michelle), Jannine Kane (Chris), Natalie Marcotte (Stephen), Vanessa Lutes (Matt), and Shannon Walsh. She has 11 great grandchildren (12th due any day) and 3 great great grandchildren. 
A Mass of Christian Burial for Libby Klekot will be celebrated on Saturday, February 29th at 10:30 am at St. Peter Catholic Church in Riverside, NJ. Interment will follow at St. Peter's Cemetery. 
In lieu of flowers, donations may be made to Good Counsel South Jersey, 805 Warren St, Beverly, NJ 08010.