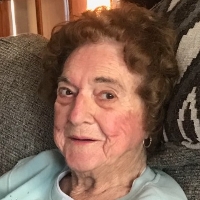 Evelyn L. Myers
Evelyn L. Myers
Evelyn L. Myers (4/09/1929- 02/13/2023)
Evelyn was born in Tacony PA, on April 9th 1929, she was raised in Willow Grove PA.
Evelyn attended and graduated from Upper Moreland high school. After graduation she was employed by Hinkles and McCoy. Evelyn married William A Myers in 1961 They bought Williams grandparents house on Union Ave Delanco where they would raise their 4 children and live for the next 61 years.
Loving wife of William A. Myers, Loving mother to Lynda Hatcher (Rich), Karen Berger (John), Michelle Eastburn (Ben), 8 grandchildren, Jacquelyn Myers, Cody Myers, Kelcie Myers, Jenna Hatcher, Bryce Berger, Brodie Berger, Nicholas Eastburn, Reilly Eastburn and two great grandchildren, Beckham Bennett and Easton Davis.
Evelyn was a homemaker while raising her children then was employed by Zurburgg Hospital, Ohama steaks, and Alan Mills Portrait studios where she retired in 1994. She enjoyed camping, boating, the jersey shore, especially Atlantic City and Long Beach Island. They traveled the country in their camper, hitting every state but Hawaii. She adored her grandchildren and great grandchildren and attended all of their various sporting events. She was all about the party, from birthdays, anniversaries, or Graduations and any and all holiday parties, always being the first person to arrive. Boy did she love to dance, no matter what the event. Any bar, club or concert or just dancing in their living room. Evelyn's loyalty was forever solidified in Philly sports with her favorite teams being the Eagles and Phillies. Evelyn was preceded in death by her mother Clara Hahn, her father Louis Hahn, siblings Louis Hahn Jr., Verna Covington, and Jeanette Phfister, and her son William A Myers (Rock). At families request services will be private.