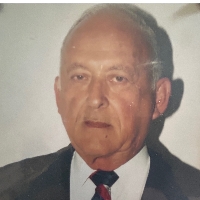 Francis "George" Joo
Francis "George" Joo
Although he was a quiet and humble man, he was strong and devoted to his family. He was one of many great athletes who was born in Swampoodle (Riverside, NJ) and was inducted into the Riverside High School Athletic Hall of Fame. He was always a spectator at various high school and independent games; George would greet you with a piece of candy. Of course, the candy was just as much for him. He had an insatiable sweet tooth. He was strong in his faith; an usher at St. Casimir and a member of the Knights of Columbus. For George there was no place like home, relaxing in front of his T.V checking out some Price is Right. He was a member of the "Greatest Generation" being a WWII Army veteran.
George is survived by his sons: George (Joanne) Joo and Timothy Joo; grandchildren: Jaci (John) Franzen, Valerie (Matthew) Hughes, Kevin (Michelle) Joo, Kylie (Jeff Perro) Joo, Briella Joo, and Zophia Joo; great-grandchildren: Kaeli Franzen, Heather Hughes, Ashley Hughes, Alana Joo, and Brynlee Joo; and many nieces, nephews, and cousins. He was predeceased by his wife Helen Joo, his children: Cynthia Joo and Jeffrey Joo; his siblings Emil Joo, Lillian Waters, Mary Burk, Charles Joo, John Joo, and Betty Giles; and parents Charles and Mary Joo.
Come celebrate 96 great years Tuesday December 27th from 7 -9 p.m. at Sweeney Funeral Home, Riverside and Wednesday December 28th from 9-10a.m. Mass of Christian Burial will be celebrated 10:30 a.m. at Resurrection Parish, St Casimir site. Interment Lakeview Memorial Park, Cinnaminson. In lieu of flowers donations may be made to a charity of your choice.