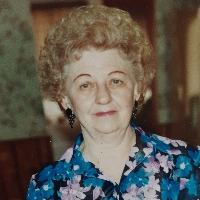 Irene Tubic
Irene Tubic
She worked for many years at MacMillan Publishing but found her real calling late in life; that of a grandmother and great grandmother. Irene was the grands' built-in babysitter. She had a little bit of gamble in her; she'd get back from an Atlantic City bus trip and immediately be heading off to one of her bingo games; she won more than her fair share in lottery scratch offs. If her T.V was on she'd be checking in on her soaps, game shows and her beloved Phils and she loved old country music, especially Johnny Cash.
She met a handsome guy (the late Thomas) and settled on Norman Ave in Delran to raise her family. She is survived by her children, Dorothy and Thomas Tubic; her grandchildren, Jenna Snow, Gwen Starke and Paige Yansick; and her great grandchildren, Stephen Snow, Jayda Yansick, Mackenzie Snow, Harley Caceres and Jesse Navara.
Come celebrate 98 great years Thursday 10-11 a.m. at Sweeney Funeral Home, Riverside, where there will be an 11 a.m. service. Interment St. Peter Cemetery.