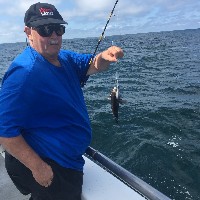 James McNutt
James McNutt
Jim was a man of many emotions. He was stubborn, pigheaded, and did what he wanted when he wanted, but that didn't stop him from being the best person to have in your corner. His love, compassion and kindness were unconditional. Near and far he made friends.
Jim worked in sales for many years, Snap-on, Mac Tools, SRP, Fastenal. He could practically sell anything to anyone. He was a blue-collar man who worked his butt off to provide for his wife, daughter and grandson. If you were his friend, he made sure he took care of you, whether it was picking up the check, giving a gift or providing comfort. He was always there for you. If any of his best friends, John, Gail, Jerry or Vicki, called he would drop the world to help them. Jim was upfront and honest about anything and everything. Which is why he was so good at his job, coaching and being a great friend. Once he got home still having work to do, he was always accompanied by his grandson as his little helper. Jim is definitely 100% the reason why his grandson is the proud, hard-working, blue-collar man that he is today.
On his day off he would watch the sports channel. The Eagles and Phillies being his favorites, but he also kept up with the 76ers, Flyers and golf. He would always be the loudest supporter in the stands, screaming so loud it would scare people around him. If the team wasn't playing their best, Jim would throw stuff that lead to Kathy buying him a Nerf brick to throw.
In the summer, Jim and his family would travel down to Maryland to go boating on the Chesapeake Bay. He found his calling in life as a PopPop who took on the role of a Dad. He loved spending time with his grandson watching sports and coaching him in baseball. Traveling to games and tournaments was a family affair.
James is survived by his daughter Melanie McNutt, his grandson CJ McNutt, (Christopher-James, named after his PopPop), and life companion Leslie Geisheimer along with many nieces, nephews, and cousins. He is predeceased by the love of his life, wife Katherine, (Kathy/Kath), nee Kerrigan, and siblings Karen Scott, William McNutt Jr, and Barbra Rappo.
Come celebrate 72 great years on Friday August 18th, from 4-6 pm at Sweeney Funeral Home, 337 Bridgeboro Street Riverside. Repas immediately following. In lieu of flowers donations can be made to American Cancer Society. http://donate.cancer.org
Jim loved his sports so we ask that you skip the suit and tie and rep your favorite team.