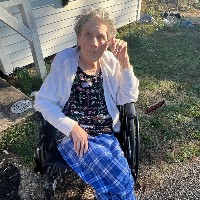 Jean E. Barbera
Jean E. Barbera
Jean was the type of woman who could make anyone in the room laugh. She had an amazing sense of humor that always brought smiles to peoples faces. Jean was a talkative person who would sit down and tell stories about her life. She welcomed anyone into her home, and once you were in, she was already treating you like family.
In her younger years, Jean was the woman of the house. Her late husband, Tony, would go off to work and she would get to work on her chores. She kept her home immaculate and had a place for everything. All day she would be cleaning the house. Even when it seemed clean she'd still say "I have to clean". She wasn't much of a cook either, but she still made sure everyone ate at dinner time.
If you were driving down Burlington Avenue in Delanco, you could catch Jean sitting on her porch watching the cars go by. Most people around town knew who she was and would wave or stop and chat. Her favorite thing was when the Memorial day and 4th of July Parades came to town. You could hear her cheering from a mile away when her son and grandson were walking by as firemen in the parades.
It was rare if Jean didn't have a sweet treat hiding away in her pantry. She indulged in sweets like L&M donuts, cookies, and cakes. If there was ice cream being scooped out, you better believe Jean would be having not just one bowl, but two, or maybe even three.
She met the love of her life Tony and they went on to spend more than 50 years together. They had three beautiful children, who have brought her grandchildren, and great grandchildren. She found her calling late in life as a grandmother. Her absolute favorite grandchild was Anthony. In her eyes, he could do no wrong and she treated him like he was a prince. She even helped gift him his first car, a Mustang.
She is survived by her children Frances, Anthony (Minuette Coit) Barbera, and Bobby (Donna) Barbera, her grandchild Anthony Barbera (Jenny), grandson Chris and many other family members.
Come celebrate 90 great years on Sunday, September 17th from 5pm-7pm and Monday September 18th from 10am-11am where there will be an 11am service, at Sweeney Funeral Home, 337 Bridgeboro Street, Riverside. Interment Monument Cemetery.