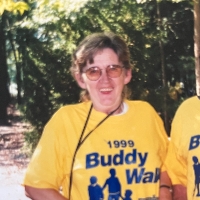 Joan Lallo
Joan Lallo
Everyone knew that her family came first. She was a mom for the ages and took care of all the worrying for the family with one eye focused on the weather channel looking out for any approaching storms. Never had that problem in her home though; she kept the thermostat at a constant 70 degrees. Though she was a great mom she found her real calling late in life; that of a grandmother. Nan Lallo babysat all the grands and great grands. She had that way of convincing them all that they were her favorites, but deep down everyone knew that Alexis was her shining star. And to keep in touch with them she stayed current with technology especially her cell phone and Facebook. She hosted the holidays, her home filled with the sounds of her kids and grands, usually 50 people. She did a lot of crocheting: blankets for everyone, hats, pillows, camo hats and her famous Minions hats, and loved camping in her retirement years with her late husband, Babe. She also loved her word search and fill in puzzle books. If her TV was on, she'd be checking out the Hallmark or Lifetime Channels and she loved Elvis, Johnny Cash, old school country and her Gospel music. Joan and Babe both loved to dance. If there was music, they were on the dance floor.
She is survived by her children: Ron (Rhonda), Mike (Linda), Ed, Rob (Patty), Kenny (Maryann), Jimmy (Tina), and Brian (Chrissy). Grandchildren: Renee (Warren), Gina (Joey), Chris (Jess), Nick (Lisa), Eddie, Jr., Ryan, Josh, Jase, Michelle (Andrew), Rob, Jr., Mariah (Gary), Maranda, Jim, Jr. (Christine), Nicole (Jake), Karissa, Nathan, and Anthony. Great-grandchildren Alexis, Warren, Mason, Alivia, Lacie, Riley, Matty, Natalie, David, Faith, Isabella, Alyena, Andrew, Vincent, Lil Gary, Lucas and Lorenzo. She was predeceased by her husband, Babe and their first born son, James.
In lieu of flowers, donations can be made to:
The Life of Little Logan
c/o Paula and Rob Ryder
13 Bentwood Drive
Westampton, NJ 08060
Joan was one of Little Logan's biggest fans (Alexis's buddy) (Facebook).
Services celebrating 85 great years will be held privately by the family.