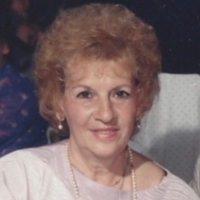 Josephine (Jo) Fuoco
Josephine (Jo) Fuoco
Josephine (Jo) Fuoco instantly brightened any room. Radiating beauty inside and out, she always shared a hug and lent a hand. She thrived on family, friends, and community service: beloved Holy Innocents teacher; Eucharistic minister; member of St. Peter's Choir since childhood and the Diocesan Choir; member of Cinnaminson and Burlington Choruses; Women's Auxiliary for the K of C; Altar Rosary Society; member of Deacons' Wives and Secular Franciscan Third Order; member of St. Peter's and Delran Senior Citizen Clubs; and still found time for a bowling league. After graduating from Riverside High School, she worked in a dress factory and as a soda jerk. Later in life, she worked at Galdo Jewelers and the Election Board.
She was a loving mother, donating time as a scout leader, basketball coach, and CCD teacher. Tons of love was shared with her grandchildren and great-grandchildren. On their walks, the kids often found money near the curb that "just happened to be there"—one of Jo's many generous ways. Always a nurturer with a warm heart and pot on the stove, she gave selflessly to anyone she met. Her love of cooking benefited all who knew her. She was a lover of dogs, birds (especially hummingbirds), and gardening. Josephine was devoted to God and the Blessed Mother, proud to be a deacon's wife, proud of her parish. She was a lifetime parishioner at St. Peter's Church where she made all her sacraments.
Josephine cherished 65 years of marriage to the late Deacon Joseph Fuoco. She was daughter to Magdelena Capobianco (née Capone) and Carmine Capobianco, and sister to seven siblings. She is survived by her beloved children: Judy Sutton (Tom) of Delran and Frederick Fuoco of New Orleans; her grandchildren: Michelle Sutton-Kerchner (Jeff), Christina Rutledge (Bill), Sandy Farley (Troy); Kara Lashley (Jon) and Ericka Hunt (Ryan); and was "Great-Mother" to her great-grandchildren: Max, Alex, Jessica, Jack, Benjamin, Joseph, and Andrew; and Jayce, Demi, Jon, Paisley, and Kinley. She has a bounty of extended family and friends.
Celebrate 98 active, blessed years: Mon, June 20, 6-8pm & Tues, June 21, 9-10am at Sweeney Funeral Home, Riverside. Mass of Christian Burial at Jesus the Good Shepherd, Beverly: June 21, 10:30am. In lieu of flowers, donations may be made to St. Jude Children's Hospital.