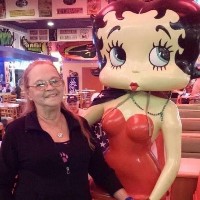 Judy R. Shedosky
Judy R. Shedosky
She could make you laugh at anything, but you always knew Judy had your back. She cooked with the best: people loved her stuffed peppers and veggie soup. Some thought she should have opened a hoagie shop. If her T.V was on she'd be checking out true crime shows or catching up on the news. Christmas was her favorite holiday; she decorated Nov. 1 to Dec 25. Judy loved walking in the rain and watching the snow. She was raised in Edgewater Park and graduated from Burlington City High School. She worked as a security guard for many years, most recently at Virtua Mt. Holly.
She is survived by her daughter, Jan Stone; grandchildren, Taylor Larson, Domenique Stone, Rebekah Russom and Rose Brendan; and her dogs, Jasper and Pickles.
Family celebrated 73 great years privately.