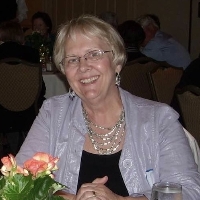 Kathryn Louise Ruehmling Robinson
Kathryn Louise Ruehmling Robinson
Kathy was a resident of Riverside for many years where she volunteered at St Peter's Parish and was known for her voice. Pitch perfect from an early age, her musical talents included high school musicals at Holy Cross High School, leading voice in the Glee Club at Holy Family College, participation in such events as the Messiah with the Philadelphia Philharmonic and, believe it or not, actually sang in a rock group and cut a record. But Kathy's greatest musical love was that of a Cantor at St. Peter's, Holy Name and St. Joseph's. Most Saturdays and Sundays found her singing like an angel.
Kathy was a dedicated teacher in the Willingboro School District as a Special Education teacher on multiple levels from pre-kindergarten to being a dedicated high school advocate for students with special needs. After retirement she continued to work within the county as a consultant for testing of special needs students. Earlier years found her teaching and lifeguarding at the Willingboro pools and she was a member of the board at the Riverdel pool. Of course, her real calling was as a grandmother: she was a built-in babysitter and spent many an hour entertaining the grands in games. She loved the occasional vacations: usually Ocean City and none were better than with the Mongos. She was a graduate of Holy Cross High School, earned a bachelor's from Holy Family University and a master's from Trenton State
At a dojo, she'd meet a handsome instructor named Bill. Their 47-year marriage was blessed by two daughters, Angela (Michael) Parise and Sara Robinson; and later by grandchildren Rocco Parise, Carter Parise, Max Parise, Sasha Paige, Steven Paige Jr, Searra Paige and Shianne Paige. She is survived by her sisters, Mary Ann Ruehmling Saunders (Rick) and their son Rick, and Margaret Ruehmling Ericksen and her 2 daughters, Rikilee and Dana. Kathy was preceded in death by her parents, William (Bill) and Stella Ruehmling and her brother, Joe Ruehmling.
Come celebrate 74 great years Tuesday 6-8 p.m. and Wednesday 10-11 a.m. at Sweeney Funeral Home, Riverside where there will be an 11 a.m. service. In lieu of flowers donations to the Alzheimer's Association (Alz.org) will be appreciated.