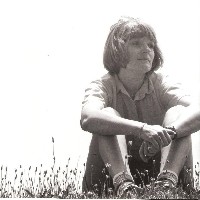 Laura Sherr
Laura Sherr
Laura Mary Bacon Sherr
Laura had a fantastic sense of humor. She could make anyone in a room laugh, and was good for a dirty joke or two (or three.) Laura will always be remembered as the free spirit that made her the loving wife and mother she was.
Her love of collie dogs began with the TV show Lassie.  She took one look at Lassie and was smitten.  After much begging, her parents relented and welcomed her collie, who she named "Lassie" to the family.  Later in life, Laura founded Watermark Collies and began raising and showing her own collies.  She just adored her collies and especially enjoyed her collie club friends and the annual gathering at Albert Payson Terhune's Sunnybank.
As a young girl, Laura was a huge Beatles fan.  So, she and her friends started a three-girl band. Of course, they played covers of the Beatles (she always said she'd marry Paul McCartney) and rocked on their homemade instruments. Laura was lead guitar. The band didn't get signed, but nonetheless, Laura continued to learn to play guitar.
Laura was a role model for her daughters. She worked and paid her way through college by starting her own cleaning business. By 1990, she earned her bachelor's degree in communications from Temple University.  As a parent, Laura was always open with her daughters.  Her kind and caring demeanor made them feel like they could tell her anything. But she also instilled a sense of discipline as well.  She said what she meant and meant what she said.  Get good grades, or else!
While working as a cocktail waitress at a local bar, she met the love of her life, Ron.  As fate would have it, she was filling in for another girl and wasn't supposed to be there that night.  And, Ron's band were also filling in for another act that didn't show up that night. Laura complimented Ron on how good the band was, and the rest, as they say, is history.  Together, with their 3 daughters in tow, Laura and Ron traveled up and down the east coast with the band.  Later, they would form their own business BridgeMusico, providing DJ, video and photography services. Laura was the photographer and Ron was the music and video coordinator.
Laura is survived by her siblings Reese G. Bacon and Robert C. Bacon, her daughters Paige H. Barnett (William F. Fuller), Sara H. Sherr (Andrew L. Selke), Emily B. Rubin (Michael B.), and two grandsons Nate D. and Kyle A. Rubin. She is predeceased by her loving husband Ronald J. Sherr.
Come celebrate 74 great years on August 28th from 12pm-2pm, where there will be a 2pm service at Sweeney Funeral Home, 478 Cooper Street Beverly, NJ 08010.
In lieu of flowers donations can be made to The Collie Health Foundation https://www.colliehealth.org/shop/donate/donations/