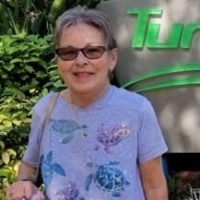 Lynore (Lynn) Fisher
Lynore (Lynn) Fisher
Lynore (Lynn) Fisher (nee Beck), age 78, passed away peacefully on January 17th, 2023 at AdventHealth Hospice Center in Altamonte Springs, Florida, surrounded by her loving husband and family, after a lengthy illness and kidney failure. 
 Lynn was born on March 24th, 1944 to Charles and Dorothy Beck (nee Reitmeier) in Riverside, NJ.  She grew up on Lippincott Ave. in Riverside and graduated from Riverside High School in 1962.  She married the love of her life,  Louis Fisher,  shortly after graduating and moved to Palmer St. in Riverside where she was a home maker and mother to her three sons.  Lynn held office jobs at her Father's electrical contracting company in Riverside (Beck Electric) and in her husband's dry cleaning businesses in Cherry Hill and Millville.    
 After successfully raising her boys, Lynn moved to Key West, FL with her husband, where she spent over 15 years living while working in the hospitality industry.  Her longest employ was at the Southernmost Hotel in Key West, where she worked as a front desk supervisor.  Lynn loved the sea turtles that live in the waters of the Florida Keys, and had a high interest in the safety and conservation of these precious creatures.  She could often be found wearing sea turtle attire and jewelry.  Before moving from Key West, Lynn and her husband received a proclamation from the mayor of Key West, declaring her an official "Conch", which is the term used to describe an official resident of Key West.  Lynn would often say that her years in Key West were the best of her life.
 In 2005, Lynn moved to Zellwood Station in Zellwood Florida with her husband to retire and be closer to her children and grandchildren.  She enjoyed spending time with friends in the Zellwood community and her nearby family in Apopka Florida.
 Lynn is survived by:  her loving husband of over 60 years Louis Fisher Sr., three sons; Louis Fisher Jr. of Riverside NJ, Steven Fisher of Apopka FL, and Gary Fisher of Murfreesboro Tennessee, her older sister; Carole Ely-Wickham of Greenbrae, CA, seven grandchildren and 3 great grandchildren. 
 Loomis Funeral Home of Apopka Florida has assisted the family with cremation arrangements.  Lynn's family will be holding a celebration of life for Lynn in the near future in both New Jersey and Key West.