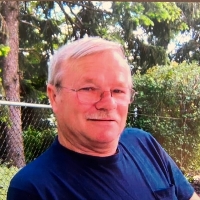 Mark S. Gauntt Sr. "Rick"
Mark S. Gauntt Sr. "Rick"
Rick could swing a hammer with the best of them and worked construction most of his life for Whitesell and McVaugh.  He was a jack of all trades (everything from masonry to plumbing) and was generous with his time with family and friends with their various improvement projects. Rick enjoyed working as a DJ in his spare time. But he found his real calling late in life: as a Pop-Pop he was spoiler in chief, though he enjoyed teasing the grands more than anything. Thanksgiving was definitely the Gauntt holiday, prepping dinner next to his wife. He cheered for the Phillies and the Eagles; the big games being more about family bonding. For enjoyment he did a little travelling, Canada and cruises to Bermuda, and bowled; once rolled a 292.
Rick passed away on April 5, 2022 with his wife Linda (Bright) by his side.  They shared a  57-year marriage blessed by sons Mark Jr (Jazmin) "Ricky" and Eric; grandchildren: Stephanie Gauntt (Jeff), Deanna Bernard, Alexis Ferrell (JayR); great-grandchildren: Hayden Haines, Sophia Gonzalez, MiaBella Melendez, Serenity Ferrell, and Ayana Medina; sister: Sharon Gauntt Kilbride, sister in law: Joann Budden (Joey), brothers in law: Joseph Turner (Brenda), John Turner (Anna), his dear friend Dean Grob (Betty Lou), and many nieces, nephews, and cousins. He was predeceased by his father Edward Gauntt and brothers Edward Haines and Frank Gauntt.
A special thank you to Dr. Aliferova, Donna and Ginny
Come celebrate 74 years on Friday, April 15th, 6-8 pm and Saturday, April 16th  9-10 am at Sweeney Funeral Home, Riverside, where there will be a 10 am service. Entombment Oddfellows Mausoleum, Burlington. In lieu of flowers donations may be made to stjude.org.