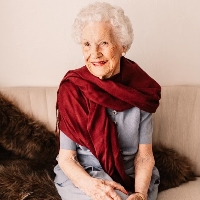 Mary E. Maratea
Mary E. Maratea
Mary was the life of the party. Full of life even at 97: she was a rock star at Riverview Estates. She sang, she danced and was always up for a good time. And whenever she headed out she'd be dressed to the nines: hair and nails just so. Most likely she'd be heading off to BINGO night at St. Pete's, St. Casimir and St. Paul. If you showed up on her doorstep, you'd never be denied and everyone got a candy bag. Not unusual for a girl with a sweet tooth: she was a chocaholic. If her T.V was on she'd be checking out the Golden Girls, Raymond and the Game Show Network.
She was devoted to her husband, the late John, and cared for him until he passed away. She is survived by her children, John P. (Elisa), Michael T. (Donna) and Eileen (Mike) Press; 8 grandchildren and 9 great-grandchildren and 3 great-great grandchildren.
Come celebrate 97 years Saturday, February 18, 2023, 9:30 am-10:30 am at Church of Sacred Heart, 400 Thomas Ave., Riverton NJ 08077. Mass of Christian burial will be celebrated 11 am. Entombment St. Peters Cemetery, Riverside. In lieu of flowers donations may be made to a charity of choice.