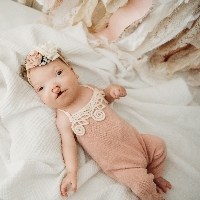 Naomi Joy Donaghy
Naomi Joy Donaghy
Miracles do happen. Seems wherever Naomi was, people were drawn to her, and couldn't wait to hold her or catch a glimpse of her sweet face. She was loved by not only her family but, the doctors and nurses at CHOP and her church family at Jesus the Good Shepard Parish. Her favorite stuffed animal was her dog, Ralph. His mere presence made every diaper change better and they shared many a discussion. Her favorite spot at home was the chaise lounge, where she cuddle up with mom or dad; whoever got the coveted spot next to her first. Of course, if you disappeared from the room for a second, she'd be arching her back looking for you. The fall brought many adventures for Naomi. Long walks taking in the crisp air, touching the trees, and exploring the many festivals the season had to offer. Naomi defied all odds to live up to her middle name: she brought joy to the world.
She is survived by her parents, Hugh and Jerline; her grandparents, Frank and Victoria Donaghy and Joyce Holloway, the late John Strickland; her great-grandmother, Betty Holloway; her Godparents, Veronica Donaghy and Kirk Ballard and a host of aunts, uncles, and cousins
Come celebrate her life, Friday, Feb. 24, 8-10:30 a.m. at Sweeney Funeral Home, Riverside. Mass of Christian Burial will be celebrated at 11 a.m. at Jesus the Good Shepherd Parish, St. Joseph Church, Beverly. Interment, St. Peter Cemetery, Riverside.